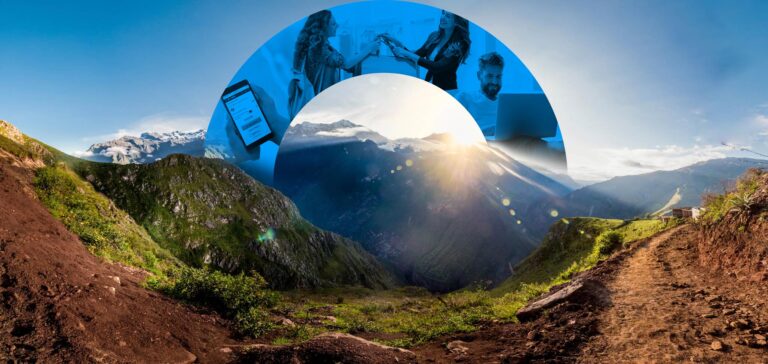 Cashless payment – is that actually good for the climate? Or bad? The physical transport of notes and coins is no longer necessary in any case, and that is good news. But one thing is certain: even the mere transport of data causes a certain amount of CO2 emissions. The Payment People wanted to know how much – and found out with the help of Climate Partner's experts.
This year, Computop became a member of Leaders for Climate Action. This is a meeting place for companies, especially in the digital economy, who have understood that we do not have a Planet B. The goal of the members are CO2 offsetting and reduction and, of course, to ignite enthusiasm amongst other companies and their leaders for climate protection.
However, before offsetting comes analysis. What exactly causes emissions in payment transactions ? It is, as so often, transport. In this case, the transport of us humans: commuting to work, and travelling to visit customers, form partnerships and/or participate in events.
In fact, in 2019, company cars and their fuel consumption were the largest item of direct emissions. An even bigger block of CO2 is in the area of indirect emissions, i.e. the emissions generated by the use of external services: the commuting of employees to work affects the climate balance with almost a third of all emissions. Flights take third place – despite a "rail first" strategy, air traffic could not be completely avoided in 2019 and contributes almost 20% of total emissions.
Mobility is the main factor
The lion's share is thus caused by mobility. Ranking fourth place in the CO2 ranking with less than 10% is the heat generated by offices. But what about the emissions caused by the operation of the payment platform? Interestingly, the pre-suppliers for fuel consumption, the train journeys, even the coffee that keeps the payment people operating each generate more CO2 than our payment software. As such, finally and in 9th place with only 0.5% of emissions, comes the data centre operation.
It's a cinch to compensate for this. But one cannot have one without the other. A global payment platform with over 350 payment methods cannot function without the people who develop it, maintain it, protect it from attack – and bring it to the customer. And so, we want – of course – to offset the total CO2 emissions that Computop produces. The whole 488 tonnes, and 10% on top, to be on the safe side. Because our calculation is certainly not yet perfect and will perhaps never be.
Better stoves – less CO2
Change of scenery: we are in Peru. The people in the countryside often live in very simple conditions. They heat and cook with an open fire in their huts. This is not very efficient and consumes a lot of wood, which is felled and collected for it. The French/Peruvian project Microsol is helping the farmers to install simple cooking stoves that heat and cook better with much less wood.
Over 100,000 of these stoves have already been built, resulting in annual savings of 250,000 tons of CO2 and we, the Payment People, are extremely pleased to be able to contribute to the financing of this project. Especially because it also supports UN development goals such as better health (through the reduction of smoke) or the avoidance of child labour (through less wood collection). Without the financing provided by a number of companies (and also private individuals) these savings would not be possible – this is real, certified CO2 compensation from one continent to another.
So, is cashless payment good for the climate? That is still not easy to answer. But perhaps Computop can make it a bit better by offering climate-neutral payment. And perhaps even more merchants and partners will soon be meeting at the Leaders for Climate Action. We would be delighted!