Biometrics by Computop: Maximum security, maximum comfort
Login and payment processes, completely without password request: Biometrics by Computop is more secure, more convenient and complies with data protection regulations.
How Biometrics by Computop improves the shopping experience in e-commerce
More secure than passwords
Password theft is a thing of the past, with Biometrics by Computop your customers no longer have to use insecure combinations of password and user name.
Best possible data protection
Do not give criminals a chance: with Biometrics by Computop fingerprint and facial scan data never leave the device. So nobody can steal them from databases.
Maximum checkout comfort
The shopping experience in your online shop has never been so convenient. The Computop solution speeds up checkout and helps to avoid additional security checks.
Identity checks via biometrics
FACE
RECOGNITION
FINGERPRINT-
DETECTION
What is biometrics?
Biometric information includes all physical characteristics that can be measured and used to identify human individuals uniquely. For example, each person's face has just as unique characteristics as his or her fingerprint.
How to use biometric features?
Cell phones, tablets, and laptops can already capture and process biometric features using cameras or fingerprint sensors. Desktop devices are also increasingly capable of this ex-works or can be retrofitted at low cost.
How can I employ the solution in my e-commerce channels?
Almost like magic: registration and login have never been so easy!
Whether in the browser-based shop or in the mobile app: with Biometrics by Computop your buyers are no longer dependent on passwords to access the customer area of your shop. Already in the registration process the customer can decide how he or she wants to identify themselves in your shop - by face recognition or fingerprint. There is also the possibility of entering a PIN.
Fast and frictionless checkout for your customers.
Even with the new 3D Secure 2.0 process for online credit card payments, it may happen that your customers are asked to provide additional TANs or other security information.
Thanks to the FIDO-compliant architecture of our solution, Biometrics by Computop will make it possible in the future to use the biometric authentication of your buyers as a "second factor" according to the new SCA requirements.
Your buyers thus enjoy a check-out process without any friction or interruptions.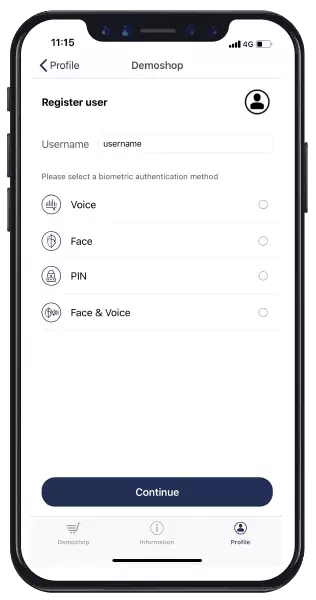 Biometrics with FIDO2 for commerce and financial transactions: new business areas for banks
How is security ensured in the handling of biometric data?
FIDO-certified solution
The system architecture of Biometrics by Computop is FIDO-certified, meeting the latest technical requirements for authentication methods that use biometrics as a distinguishing feature.
FIDO (Fast Identity Online) is an international industry association that has defined the worldwide standards for biometrics-based identification of online users. By issuing certificates, FIDO consistently monitors compliance with these standards - to ensure the same level of security, usability and system compatibility for users and providers of online services worldwide.
No storage of biometric data.
Users of our solution benefit from a simple and reliable biometrics-based identification process. Nevertheless, biometric data is not collected and stored at any time. How does it work?
During each authentication process, the biometric image (fingerprint, face) recorded by the user device is immediately made unrecognizable by converting it into a hash value. Since the generated hash value can neither be converted back into the original image nor used within other systems, it is worthless for data thieves and other third parties.
Security architecture of Biometris by Computop