Computop Cloud POS Interface
Use your web-based ERP or shop system to accept card payments in stationery businesses. The communication of your terminals at the point of sale occurs via the Internet directly through Computop Paygate and makes traditional interfaces such as OPI or ZVT superfluous.
Off into the clouds – Computop Cloud POS Interface makes terminals fly!
The Computop Cloud POS Interface liberates you from the limitations of a conventional POS architecture for accepting card payments. You will no longer depend on using traditional POS or cash register systems with an integrated ZVT/OPI interface to operate your card terminals. Our newly developed interface enables you to operate card terminals from any web-based ERP, store, or POS system. Communication does not take place via the ZVT/OPI interface but directly via Computop Paygate.
The Paygate transfers the payment requests to a cloud-based terminal server which identifies and addresses the correct terminal. Therefore, the terminal does not have to be in the same network as the initiator system but can also be operated via a SIM card. This innovation in the POS system landscape allows you to implement omnichannel-based, customer-facing services at the stationary point of sale faster and flexibly using your existing infrastructure.
Operation of card terminals via web-based ERP, store, or POS systems
No need to use and maintain a ZVT/OPI interface
Location-independent terminal operation via SIM card (mobile Internet) possible
Central processing of both e-commerce and stationary payments via the Computop Paygate interface
No separate cash register and webshop system required
High scalability of the solution, especially for international corporate structures
Worldwide, location-independent operation of terminals via a central system
Our solution for web-based control of card terminals features three core components:
Computop API
The Computop API accepts all payments from the underlying merchant system.
Cloud Terminal Server
The Cloud Terminal Server ensures the correct identification and addressing of the intended terminal as well as the secure transfer of payment data.
Card terminal
A Computop card terminal suited to the particular use scenario enables the customer to make payments smoothly.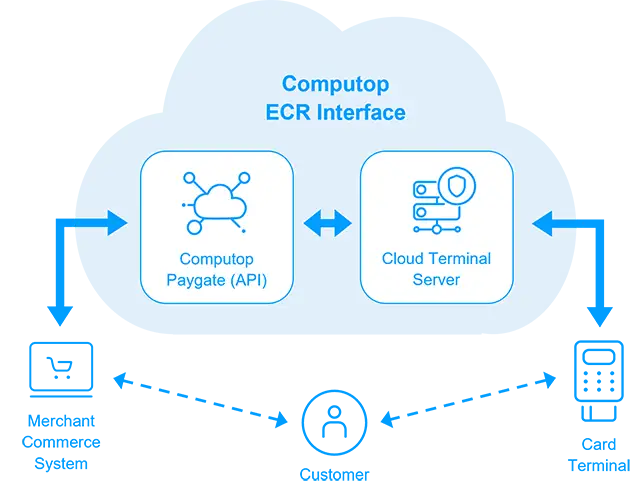 The use of the Computop Cloud POS Interface is ideal if you use a web-based ERP, store, or cash register system to trigger a payment. However, you do not want to connect your terminals via ZVT or OPI for technical or process-related reasons.
Maintenance of machines and equipment (B2B); repair service for household appliances (B2C); mobile roadside assistance services
Stationary sale
of goods and services
via an omnichannel shop system which does not support a ZVT/ OPI interface
Self-service sales
at the point of sale
Self-service terminals in foyers of museums,event locations or touristinformation centers
With these terminals you can use Cloud POS

Mobile A920
Mobile POS Solution
The Mobile A920 is an Android-based terminal with a smartphone character. In addition to its pure payment function, it can also be used as a POS handheld computer.


Mobile Premium
Mobile POS Solution
The Mobile Premium is the ideal companion for gastronomy and changing sales areas indoors and outdoors.



Base Next
Desktop Terminal
The Base Next is a compact terminal with high processing speed for operation with and without a cash register connection.



Pad Next
Desktop Terminal
The Pad Next is the professional for stationary branch stores with integrated QR and barcode reader.


Fly A77
POS Terminal
The Fly A77 with a particularly slim design and receipt output via dirct POS connection or eReceipt.


IM30
POS Terminal
The IM30 vending terminal can be individualized and its range of functions extended by apps.

The following solutions may also interest you
Innovative payment solutions for the POS: A win-win for merchants and customers
With Computop's omnichannel POS payment solution you enable smooth payment processes and can connect the complete payment processing of your stores with your online channels. This opens up a new, cross-channel shopping experience for your customers and additional sales potential for you!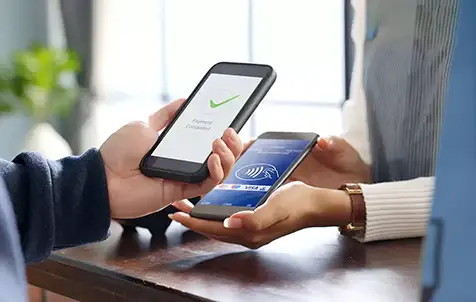 Computop enables the smartphone as a card terminal with Computop PhonePOS
Retail customers of the international payment service provider (PSP), Computop, will now be able to use smartphones at the POS to accept contactless payments.