Computop Close-by – Contactless Revised
With Computop Close-by, you can offer your customers a patented,*) contactless payment solution. It works without an additional app with any NFC-enabled smartphone and makes all online payment methods available at the point of sale – highly secure, highly flexible!


Sounds interesting?
Breaks through entry and technology barriers!
Computop Close-by requires neither POS terminals nor unique apps or user registration. Thanks to Computop's patented*) NFC technology, any standard cell phone can be used for payment - including iOS devices from Apple. The device receives a contactless payment link that takes the buyer to the payment page in the Internet browser. There he selects his preferred payment method and completes the purchase.
Video: Computop Close-by – NFC Payment Revised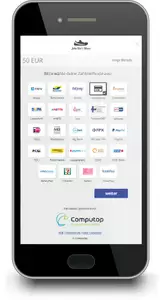 Computop Close-by + HPP = all payment methods!
Computop Close-by relies on our proven Hosted Payment Pages (HPP) for checkout. The entire checkout takes place on highly secure payment pages hosted by us - fully PCI-certified and risk-free for you as a merchant. And best of all, you can use all payment methods on the HPP that are also possible in online retail. So in the future, don't be limited to the classic PoS payment methods. Offer your local and international customers their preferred payment methods.
Highly flexible: Computop Close-by scales with your business
Our patented NFC technology creates entirely new, flexible use cases for you: You can either encode individual payment links on an NFC tag or label or have them transmitted wirelessly by a fully-fledged PoS system. Computop Close-by is thus suitable for sellers of unique items, for large superstores and specialist stores that want to sell goods directly on the show floor, as well as for service station or vending machine operators.
*) Patent applied for in September 2020.