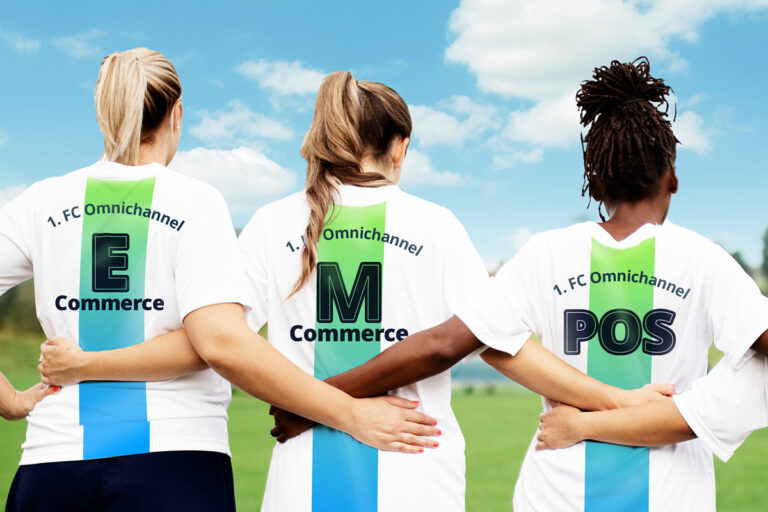 The shop around the corner, the online shop and the social media account – channels that previously worked separately now create a coherent shopping experience as a team. In doing so, they not only contribute their respective advantages, but also create completely new ones for customers and retailers: Shopping, payment and returns become more convenient, faster and more customer-centric. The keyword: omnichannel.
Team players instead of lone warriors
If a team consists only of lone fighters, then no matter how good the respective players are, it still has no chance in a competition. Teamwork is required. The same is true when it comes to shopping channels: to reach their customers, retailers have to date used different channels such as the online shop and the high street shop separately (multichannel) – each channel is a lone fighter. An omnichannel strategy, on the other hand, offers a cross-channel customer journey that fulfils customer wishes far more effectively.
Virtual shopping and the shopping experience in the physical store
Since the COVID-19 pandemic, at least one omnichannel variant has been familiar to both retailers and customers: click & collect. While only 13% of internet users were aware of it in 2017, four years later it is already 74% – according to a 2021 study by the German Retail Association.1
Like all omnichannel strategies, Click & Collect connects the virtual shopping trip with the shopping street. With a few clicks, the customer can conveniently choose a new carpet and pay directly. They can pick it up in the local shop and leave without queuing at the checkout. The "click" also ensures that the customer can choose from a usually wider range of products in the online shop than would be possible in a physical store. The product can be sent to the desired shop from other shops or a central warehouse through an appropriate merchandise management system. And at checkout, the customer can use e-commerce payment methods such as PayPal or wallet systems like ApplePay or Click to Pay.
Furthermore, in Germany, especially for high-priced products, hire purchase has long been offered as a payment option both in brick-and-mortar shops and in online retail and is popular with customers. Through providers such as Klarna or Afterpay, instalment and invoice purchases are now also represented in international e-commerce and are rapidly gaining in popularity. With the omnichannel variant Click & Collect, retailers have already been able to generate sales of €4.6 billion according to the German Trade Association 2020, which accounts for 6.4% of total online sales.2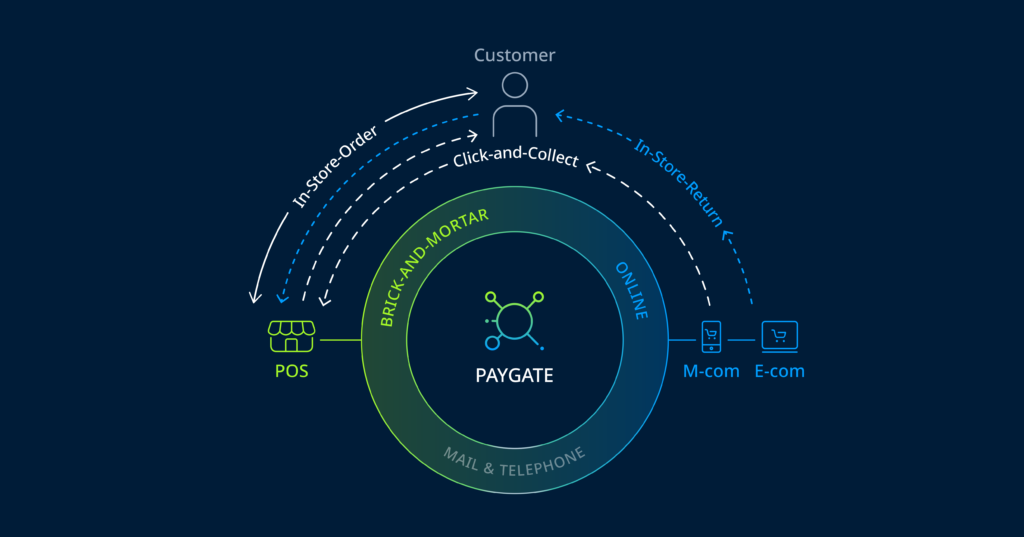 Returns and shopping inspiration
For both in-store orders and in-store returns, retailers need an inventory management system in which online and offline channels are perfectly interlinked. Compared to other omnichannel services, in-store returns are the most frequently used by online customers at 31.8%.3 Its advantage: unlike postal returns, the customer can take another look at the retailer's assortment. And they can buy the shoes in the right size and discover the matching bag on the shelf next to it. A plus point for the retailer is the saved return fees. In an online survey by EHI, 78% of the retailers surveyed said they offer returns in the shop.4

For the customer to experience a flawless customer journey, the goods must not only be easy to find and convenient to pay for, but the refund must also function smoothly. For example, if payment was made with a credit card, the amount must be credited to the same card. The payment in the online shop and in the stationary shop should therefore come from one source: The payment service provider (PSP) in turn must offer a solution for all channels – e-commerce, m-commerce and POS. If the areas are served by different PSPs or by payment service providers using different platforms, it becomes more difficult for the merchant to carry out and keep track of the transactions between the channels.
In-store order – e-commerce at the POS
Until now, anyone who has had a package delivered would likely have ordered it online. With the in-store order, which is in second place among the most frequently offered omnichannel variants in a survey by EHI from 2021, this is changing.5 While a customer can stroll through a physical shop, with this omnichannel variant the entire online assortment of the retailer is available to him or her at the same time: If the shirt is no longer available in the right size, the customer doesn't have to go home empty-handed. Terminals or tablets operated by staff make it easy to order the shirt and send it to the customer's home. Again, a perfect match between online and offline channels.
So, by using an omnichannel inventory management system, retailers expand their service and strengthen the customer relationship. In addition, warehousing and sales can be improved: Whereas in one location colourful jumpers might be a slow seller, in another they may be a must-have.
Last but not least, a retailer can gain a new, important customer set – Generation Z – through a cross-channel shopping experience. Digital natives in particular want a seamless customer journey.6 One in three of them scours social media before making a purchase decision.7 And instead of switching to the online shop, a large part of the Generation Z cohort visits physical shops.8 In a survey, shopping with a smartphone or computer came second and third behind shopping in the high street.9 This is a good reason to connect the different channels – especially when it comes to payment. Because for digital natives, above all, the payment process must be fast, convenient and seamless.10 Many electronics retailers or DIY stores have already digitised part of the shopping experience: With online ads, customers can check whether the goods are available at the location. And reorder them if necessary.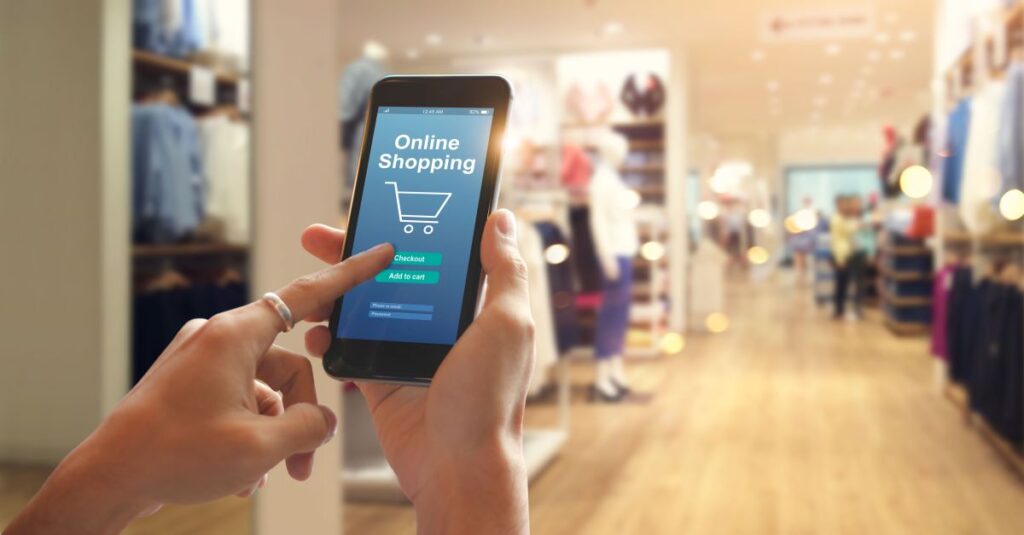 Knowing why – data analysis
How does my customer shop? How does he act in my retail shop? And how in the online shop? Using a multichannel strategy, a retailer pursues these considerations independently. However, if he pursues an omnichannel approach, then the questions and their answers are considered together. Customer knowledge from all channels is combined and thus contributes to a comprehensive overall picture. The individualisation of the offer and the shopping experience resulting from the multichannel approach is particularly important in the highly competitive fashion market.

In order to unite all the customers' payment data, a central hub is needed where all the information flows together – like the database of a PSP. This makes a good overview, detailed evaluations, and analyses possible. Especially when information from new or international markets is added. With the reporting, the retailer can determine, for example, how the buying behaviour of customers differs from country to country.
Data harmony with settlement files
Accounting departments of retail companies often receive the settlement data of the most diverse payment methods. Since these are generated by the different providers of the payment method, they can differ significantly in their structure, which increases the effort and thus the costs for accounting. If, on the other hand, settlement files of a PSP are used, the PSP can retrieve the data for the merchant from Visa or Paypal. This makes it possible to combine the information in one document and harmonise the presentation format. In addition, the merchant can automatically assign each incoming payment to an order – regardless of whether the transactions and sales occur at the POS or in e-commerce.

If you want to be a winning retailer with a successful checkout, you should rely on the Omnichannel team: A team in which all channels interact with Click & Collect, Instore Order or Instore Return. The customer journey is becoming more individual, more convenient and faster, which, with Generation Z, informs the future of shopping. And with a cross-channel as well as cross-payment analysis of sales and transactions, the buying behaviour of customers can be evaluated and strategies can be further developed with the customer in mind. Retailers who already use an omnichannel approach are equipped for the future of retail and will be rewarded with happy customers and valuable data at the same time.
---

There's only one way. All ways.
Omnichannel at its best. With us, seamlessly integrated payment processes online, offline and mobile are standard practice. All your data, regardless of the sales channel, is stored in a central database.
This provides you with a clear overview of all your transactions and analyses in one place.
---
1 Cf. Handelsverband Deutschland, IFH Köln: Online Monitor (2021).
2 Cf. ibid.
3 Cf. EHI: Connected Retail 2021. Marktanalyse von Omnichannel-Services (2021).
4 Cf. ibid.
5 Cf. ibid.
6 Vgl. #3 PwC Europe Consumer Insights Series: Gen Z is Talking. Are you Listening (2020).
7 Cf. ibid.
8 Cf. ibid.
9 Cf. ibid.
10 Cf. ibid.